Want to get in shape to be able to highline? This might be your opportunity. I am Jonas Konijnenberg, with almost 10 years of experience on the slackline. This spring I am starting a highline training program which you might want to join. On this page you'll find all the information about the program and a sign up form. There's a question section below.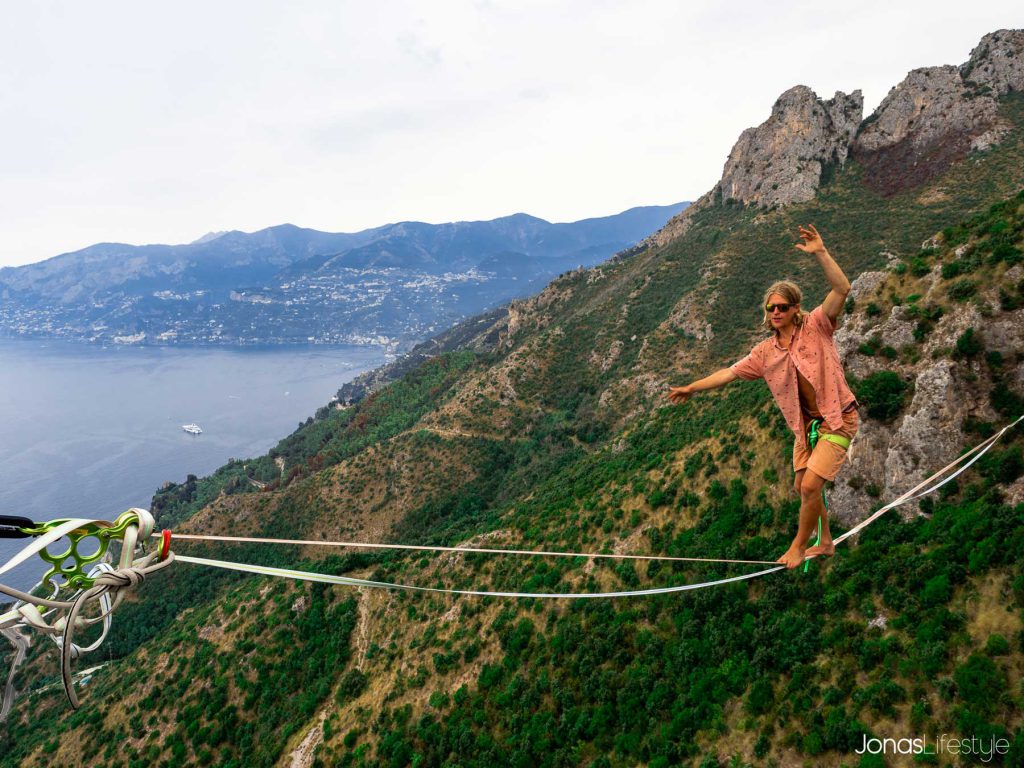 The past 8 years I am highlining. In the beginning I mostly got challenged by the mental part; being able to master my fears. My current highline period has a more physical challenge; by practicing more off the slackline, I get better on the slackline.
Now, I feel like I am able to share my training, mentally and physically. I've let many people try my highlines before. But I believe a valuable experience is created when you feel confident for the highline. This training program is designed not only to be capable to try a highline, but to feel yourself be ready to rock the highline experience.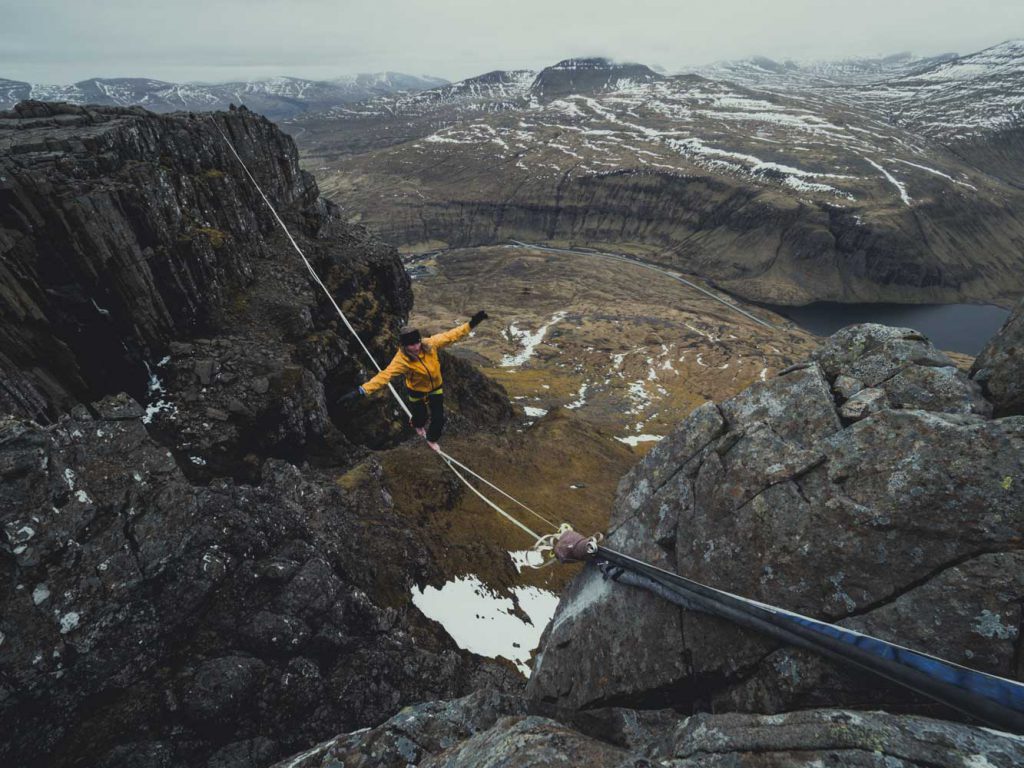 The highline is a beautiful tool to reflect on your capability to step out of your comfort zone. It's physically and mentally challenging. By following this training program, you'll gain the skills to crawl like a monkey and walk like an acrobat over the slackline.
What does it look like?
After a gathering in the park, where we'll try different slacklines, you will start your training. With a personalized training program, you will go practice everyday. The first practice is to get the body in shape and ready to be able to do the moves on and around a slackline. Strength, endurance, coordination and basic motor skills will be challenged in your daily routine.
The slackline is the place where all your skills will come together. That is where you will do your specific practice (again personalized).
Next to all the physical training, I'll also give you some mental training. By listening and visualizing the real highline act, you will prepare your mind on the big amounts of fear coming in.
During the program, you'll have constant guidance by me via our what's app group. You're able to exchange your experiences among other trainees and with me as a coach.
The progam starts mid April and ends mid June. At the end of the program we will rig a highline together. And you are able to give it a shot.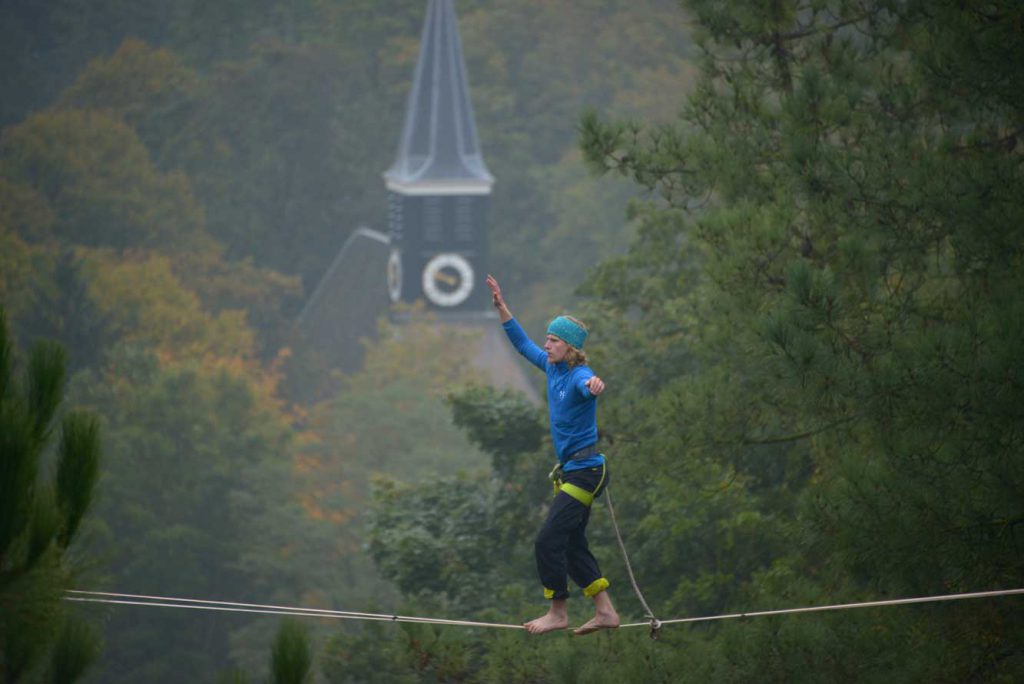 The highline program prices are
Price
The price of the program is €300. For this price you will get:
One slackline meeting/training in the park with all particpants. Here we will practice all training forms.
A personalized 12 week training program.
24/7 whats app coaching and feedback with Jonas Konijnenberg
Guided mental trainings, to prepare you brain on the fear
A highline session on a 50m highline in Schoorl.
An awesome professional picture of you on the highline!
If you are SLACKNED member, you will get a €25 discount! For more information about the Dutch slackline association visit http://slackned.nl/
Q&A
Questions and answers. Let me answer your unquestioned questions 🙂
Will you teach me to go highline?
I will give you the tools, the experience, the possibility and show you the way how to learn it. But you will do the work yourself, with my guidance! You're gonna practice yourself, that's the way to learn how to highline. Only dedicated practice will get you there. That's why the program is 2 months. Already that is a short time to learn.. but will certainly get you in the right direction.
I am already able to slackline, can't I just join the highline session?
No, this is not about being able to slackline. This is about learning and knowing what highlining is about. I want people to be ready to highline, not ok to give it a try. Of course you can join friends or other Slackliners for a session. But in this training program I will teach you all the ins and outs. Also if you are an experienced slackliner, you will end this program stronger than you were ever before.
I can't slackline yet, can I join the program?
Yes you can, all you need is time, motivation and dedication. I adivce you to practice yourself before our first meeting, so you'll have some experience and you're able to learn more than just the basics during that session. Depending on your level of experience, we will set a realistic goal together.
How does the training program look like?
The Programm consists daily practice. 2-3 times a week on the slackline, the rest of the days off the slackline. Expect a general movement approach, so you are able to maneuver and crawl on and off the slackline like a monkey. I believe practice on the floor (next to practice on the slackline) is essential to be able to get a succes experience. Of course you can get good results by only practicing on the slackline. But very little of us have time to slackline every day. And everybody is able to make some 10 mins of time to practice on the floor of your living room (or office!).
Will you teach me how to rig a highline?
No, I won't. This is program is designed for the physical part. Not the rigging. Rigging would be an entire extra program. And legally it's also a quite interesting situation.. Even the international slackline association only does rigging exams at the moment. No rigging trainings yet.. But by following this program, experienced highliners will see your dedication and will be more likely to invite you over for a session 😉